evolvetogether
2022–2023
Graphic designer for daily essentials company. Tasked with designing for social media, email, landing pages, packaging, and internal documents such as lookbooks.
---
Sephora
2021
Visual designer for beauty retailer. During this internship I got to work closely with the web design team as well as with other design interns. I had the opportunity to design the email for the Sephora at Kohl's launch, design and present Behind the Scenes research, and create assets for the newly launched Convenience Hub.
---
ILA
2020
ILA is a jewelry brand based in Houston, Texas. This internship provided me with the opportunity to design for the web for the first time, as well as learning how to work with a web developer.
---
UNBRIDALED
2020
Unbridaled is a tech company revolutionzing the diamond-selling industry. During this internship, I had the opportunity to re-brand the company, as well as creating a landing page, and mailer postcard.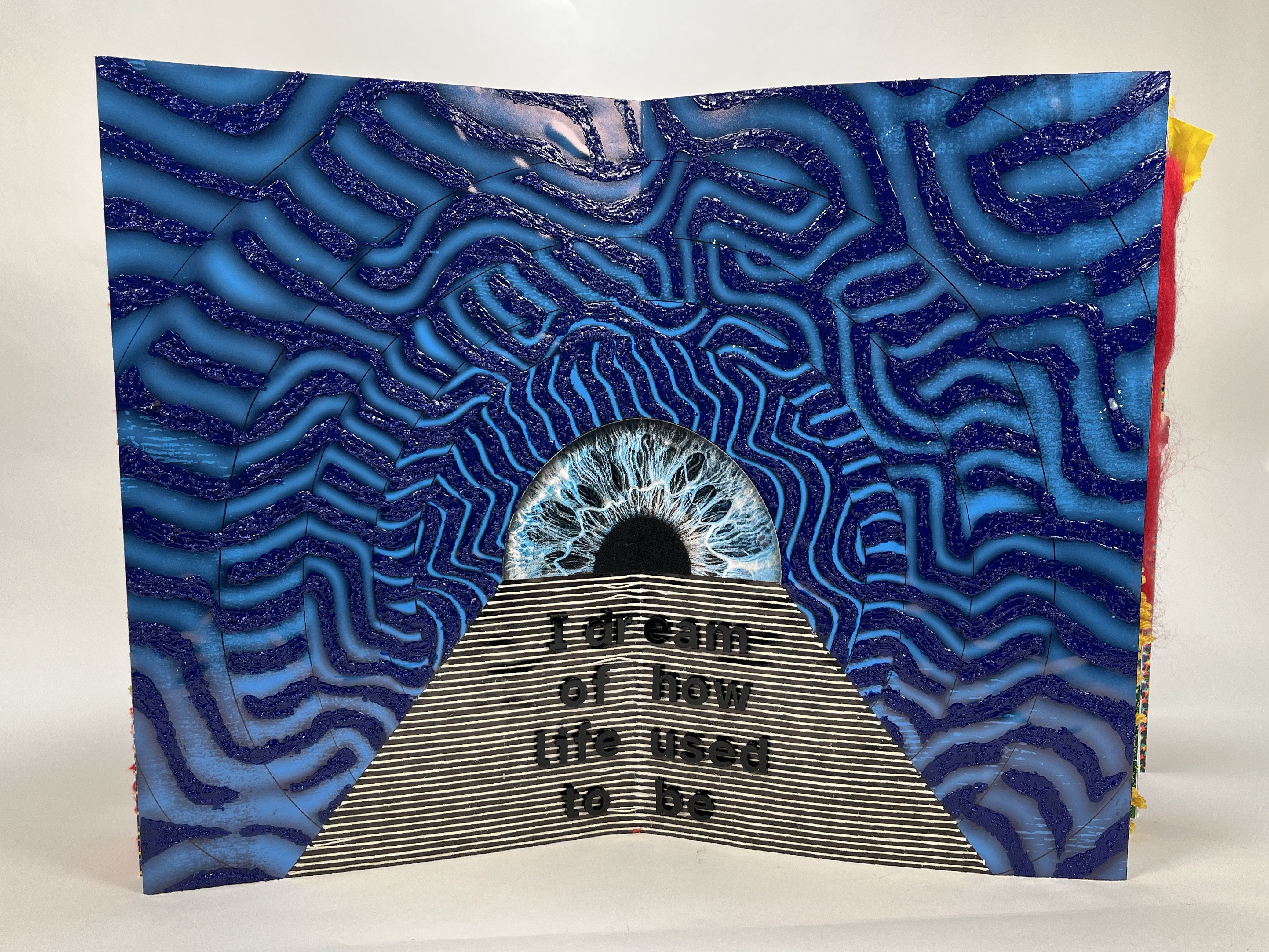 Degree Project
2022
For my degree project, I wanted to focus on tactility. More specifically, I was focusing on how blind people interact with graphic design. I wanted to create work that blind people could interact with and enjoy. Most of how we design, and its final form, is usually two-dimensional. By creating a large, over-sized book, it not only allows for more tactility, but also captures our attention as a reminder of how important accessibility is. Accompanying the oversized book are two smaller process books, manually written in braille.
---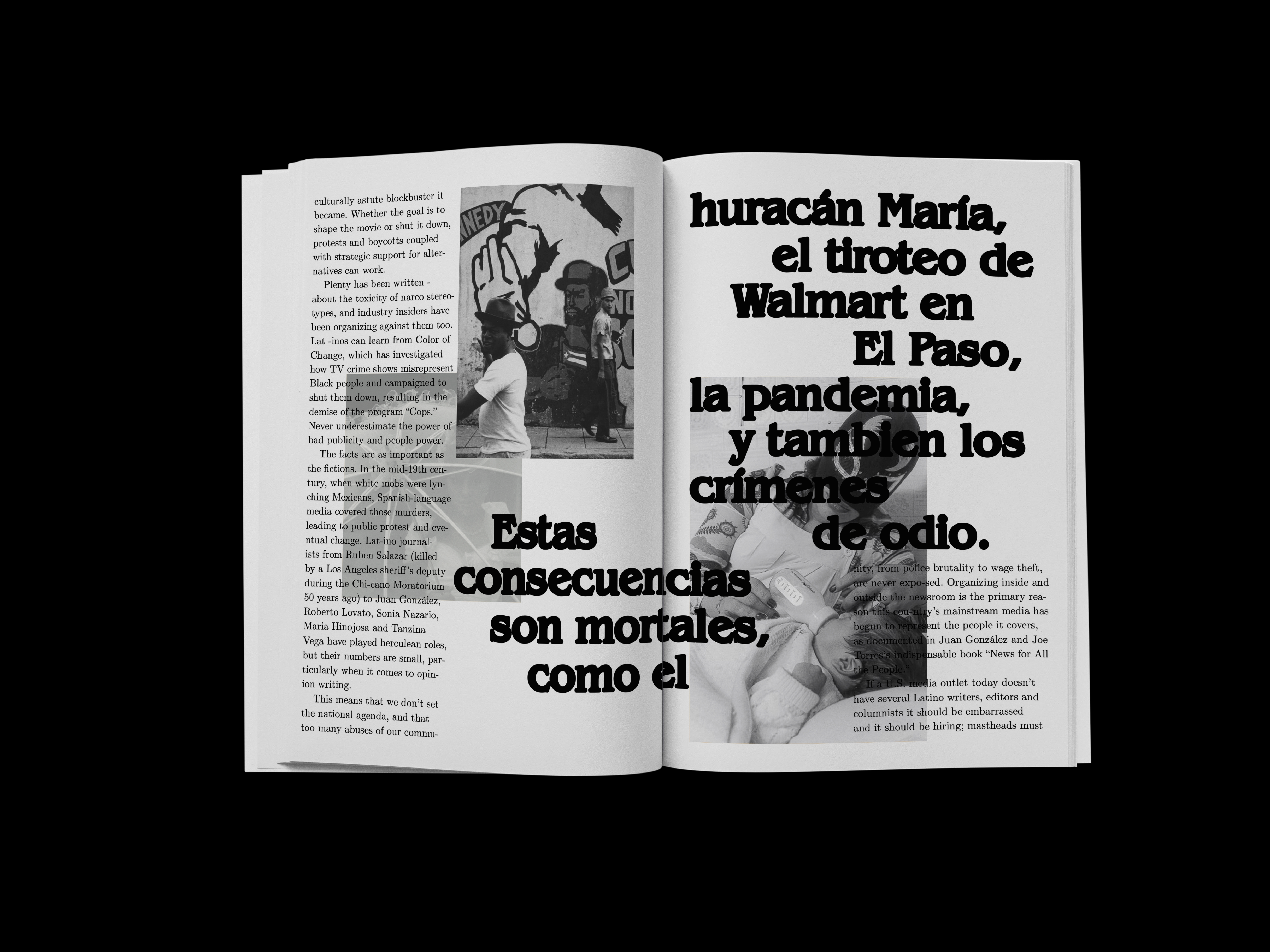 La Guerra Cultural
2020
This project required me to use two articles of my choice, and then design a book accordingly. I chose two articles that related to being Latinx in America. I wanted the design elements to play on the idea of education and rules pertaining to graphic design. The black and white side represents my American side, primarily using English, and only using black and white while following a more traditional use of typography. The colorful side represents my Latin American identity, primarily using Spanish. The typography is unconventional to portray how America has made me feel that my community is uneducated.
---
Automania
2021
Project assignment was to rebrand an art exhibit of our choice and then applying it to different mediums. I chose Automania and decided to focus on the idea of motion, while using a retro color palette in reference to the classic cars in the exhibition.
---
Manifesto
2018
8×8 Book. Project assignment required to create a book for Talib Kweli's Manifesto. Book was inspired by the Dada movement and combines three typefaces to create playful type.
---
Infographic
2020
Project assignment required an infographic poster on a topic of our choice. I chose to focus on U.S. Factory farming. This is the first infographic poster I had ever made.
---
2 Designer Accordion
2019
Accordion Book. Project assignment required two written essays, one about Rosmari Tissi and the other about Rudy Vanderlans. Using those essays, a design was created to compare and contrast designers, while trying to embody their essence.
---
Landmark Poster
2019
Informational poster based on Upper and Lower Case Magazine. Essay written by me, and design inspired by U&LC.
Jazz Promo
2021
Project assignment was to create a 30 second promo for a fictitious show titled "Jazz Legends" using only typography and abstract shapes.
---
PBS Promo
2021
Project assignment required a 15 second video to promote a documentary titled "Moving Parts: Art in Motion," airing on PBS using text and geometry to represent kinetic art.
---
Form in Motion
2021
Project assignment required creating a show title using only typography and geometric forms for a documentary film "Form in Motion: The Legacy of Swiss Design."